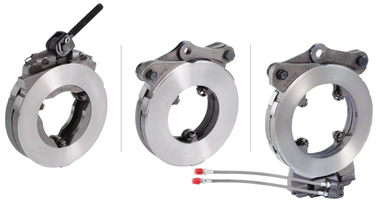 Lpr Tractors has been designing, testing and manufacturing wet ramp brakes since 1980 and its products are fitted on the leading brands of agricultural machinery worldwide.

Lpr Tractors standard range of wet ramp brakes is designed to meet the needs of today's most commonly requested requirements and consists of:

Ramp brakes with the traditional actuating system with connecting rods and pull rod: 4" - 5.6" - 6" - 6.5" - 7" - 8"- 8.75".
Ramp brakes with the wedge and pull rod actuating system: 6.5" - 8" - 9.5"- 12".
Ramp brakes with the F.O.C. (Floating Oil Cylinder) actuating system to activate the service brake and a separate mechanical system for the 8.75" parking and emergency brake.
Ramp brakes with a fixed plate integrated into the transmission, available with and without servo effect.
In addition to its standard range, the highly qualified team at Lpr Tractors also develops new braking systems which are tailor-made to customer requirements. Its extensive design experience and dedication to testing on its dynamometric rig and in the field mean that every new system is highly energy efficient and delivers unparalleled braking performance, with ultra-compact designs and maximum cost effectiveness.
Wet ramp brakes are the right choice for agricultural and off-road vehicles because:
They are housed in an enclosed, sealed casing which protects them from dust, water and other pollutants which could compromise the brake's performance.
If correctly designed, they can withstand very heavy wear over time. Thanks to the oil bath and the porosity of the friction material, brake wear is reduced to a minimum.
So problems linked to brake regulation or replacing worn parts become a thing of the past.
The servo effect , typical of ramp brakes, improves braking performance while keeping pressure on the pedal constant. Lpr Tractors has developed a system whereby a fixed plate is built into the transmission, allowing increased control of this effect and enhanced, more effective and controlled braking.